Cosmetic dentistry at Advanced Smile Institute in Port Saint Lucie, Florida is an art continuously accomplished with successful results by a friendly team of dentists and their assistants. We offer our patients a unique variety of cosmetic dental services to enhance the overall appearance of their teeth and smile. Our effective treatment options can correct a diverse spectrum of cosmetic issues from teeth problems.
What Is Cosmetic Dentistry?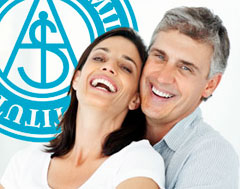 Cosmetic dentistry is a modern method in dental treatment that has developed in the general field of dentistry. We focus on fundamental principles that come with top quality dental care. Improving our patients' appearance is just part of it -- functionality being the other, which is just as important. That is why we consider all of the bodily aspects and "engineering" our patients' respective dental jobs. At Advanced Smile Institute, we take a sensible approach to cosmetic dentistry. We believe in maximum beauty without the need of diminishing the core principles.
Cosmetic dental procedures such as teeth whitening, bonding, veneers, and dental implants can enhance the attractiveness of a smile. Using the latest materials and technological advances in cosmetic dentistry, we are able to create beautiful results for many different cases.
Common Teeth Problems We Fix
Spaces between teeth (diastema)
Broken or uneven teeth
Misshapen or crooked teeth

Permanently discolored, old fillings
Whiten dark, yellow or permanently stained teeth
Tooth contouring and reshaping
Teeth spacing is a factor in cosmetic dentistry and may have a direct effect in choosing the right cosmetic procedures. In some of these cases, our patients may need orthodontic solutions. When it comes to coloration, it is much more than just choosing one simple shade. There are a multitude of shades within each tooth. Each individual tooth has its own characteristic values and variances in color. The shade of your skin also plays a big part in how your teeth appear.
Experienced Cosmetic Dentists


Cosmetic dentistry takes into account many aspects of your facial anatomy, not just your teeth. It is important to find a dentist to attend to all of these aspects and tailor them to each person. Dr. Robert Lens is an experienced cosmetic dentist with over 25 years in the practice, with a specialty in dental implants. Dr. Elizabeth Lens is also an experienced cosmetic dentist with over 25 years in the practice and a strong focus in the awareness of periodontal (gum related) concerns. She is trained in the botulinum (Botox) and fillers, offering an additional layer in advanced cosmetic dentistry.
Choose A Cosmetic Dental Plan
An amazing smile can often be accomplished through subtle changes. During a consultation with one of our cosmetic dentists, patients will learn about the procedures involved, costs of cosmetic dentistry, and discover the best cosmetic dental plan that fits both esthetically and financially. Contact us now for more information or to schedule a complimentary consultation with a reliable cosmetic dentist in Port St. Lucie, Florida.